Educational Resources
 With 24 years of teaching experience (both classroom and home school), I want to help you help your child to succeed. Why spend $ 20 -30 an hour for a tutor when with these methods you can learn to tutor your own child. Since 4 of my 6 children had learning struggles during their elementary years, and being dyslexic myself, I well understand the frustration. But with God's help (James 1:5) I learned to overcome, and went on to graduate Magma Cum Laud from Liberty University. Now, I want to pass on to you the methods I used to teach my children. (All of whom caught up)
Get it?  Got it.  Great!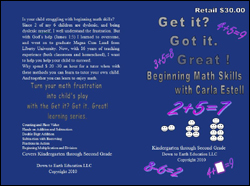 Beginning Math Skills
Is your child struggling with beginning math skills? This DVD will teach you how to tutor your child using a hands-on, picture and pattern approach that really works. It is divided into chapters that first explain the concept and then show an actual tutoring secession, beginning with the basics of place value, addition, borrowing and carrying,  and moving on to fractions, multiplication and division.  For More information, contact us by emailing stonestruestory@gmail.com.    $30.00
Place Value Flip Chart
This chart makes learning before and after numbers, skip counting and basic place value a breeze.  After watching the tutoring session in action, you can make your own flip chart or buy a laminated ready-made one for just $10.00
The Art Of Reading  –
Help for the Struggling student
In the pages of this book you will discover how help your child learn to read and spell.  From kindergarten to 5th grade, from letter sounds to spelling rules and sentence diagramming, this is the "how to" book. It includes 20 spelling list matched to 20 easy to understand rules.  There is also a reading flip chart you can cut out and assemble along with the instructions on how to use it.  This is a mom's how to teach resource which can be the backbone of your launguage arts from k-5th grade.               $20.00
Art of reading Flip Chart
With the reading flip chart our child can learn to read even if they still have trouble with letter recognition.  Every letter is pared with a picture. First they practice the letter's sound and then run the sounds together to read the word.  The needed pages are in the Art of Reading book so that you can assemble your own, or buy a ready-made, laminated one for $10.00
The Day the Letters Had their Say
Sometimes the rules of phonics are not only complex, but also unreasonable, making it even harder to remember.  Why does cry end in a y and not an i?  Why does day end in y and not just an a?  Find out as you join Judge Webster and the letters in court.  Listen in as they learn to work together resolving conflict and helping one another.  Along the way your child will learn most of the phonics rules.  Not only are the simplified rules easy to remember, they are coupled to a fun reason your child won't soon forget.   Have fun reading aloud to your child and together you'll discover the "why" behind the rules and many other helpful learning tips.  The enjoyable short chapters can be read over and over beginning in preschool.  $10.00
Fun with Phonics
This booklet contains more short stories and one-liner hints to help your child remember the patterns of reading and spelling.  But more importantly they will help unlock your child's creative thinking so they can think of their own ways to remember.  $5.00
For more information on any of these resources contact me through
stonestruestory@gmail.com   I am also available to conduct math and reading seminars.