God has taken us on such an incredible, perfectly timed journey.  When we rented out our house and headed out for a year on the road, we had no idea where the road would lead.  Sometimes God would light our path just a step at a time.  (occasionally He would map it out for a whole month!)
But looking back we can see the path so clear, the itinerary so full.  We had planned on going to TX in Feb, but nothing opened there and instead more and more opened in Florida.  Then doors opened in Ark and OK so that is where we went.  And I am so glad we did.  We had a very sweet visit with Brian's step mom, Patsy, while in OK.  The children sang song after song for her; she even sang along. It is a good memory for everyone.
After Samaritan Ministries put a blurb in their news letter for us, we recieved this email:
Hi Brian and Carla,
I got your name and email from Samaritan Ministries, which my family only joined a few months ago. My husband and I are new believers with a very strong science background. We are super interested in RE-learning what was taught to us in high school/college/grad school. Especially how the Hawaiian Islands were formed, along with lots of other things. 🙂

Have you ever thought of coming to Maui? We own a little B&B (www.haikucanneryinn.com) that we would be happy to put you up in and I know we could come up with a handful of venues to do speaking engagements. Anyway, I look forward to hearing from you.

Aloha,
Aly & Marc Hodges
Two and a half months and about 50 emails later……  we were in Hawaii!!!
The plane ride went fine.  Being a family we were walked through security with only our bags x-rayed (all 15 of them!)  One had to be opened and inspected (our bag of jacket wrapped fossils), but he was very nice about it.
The 2 bedroom cottage was wonderful!  Complete with bathroom and kitchen. We were so glad to discover a Walmart and Costco here – prices weren't too bad.  The day after we arrived we had our first seminar – a packed room of homeschoolers.  Sunday morning we shared back to back kids classes then that night we had a mixed audiance of Christians and seekers, Theistic evolutionists and creationist.  Our host Marc and Alyson Hodges were native Hawaiians and new believers with strong science backgrounds.  They have jumped into the creation studies with both feet.  While we were there, they were are personal tour guides!
We had some wonderful days of waves, snorkeling,
exploring tidepools, and great fellowship.  We traveled the road to Hana and went all the way around the back side too.  We hiked the forests and watched the sunset on top of the crater.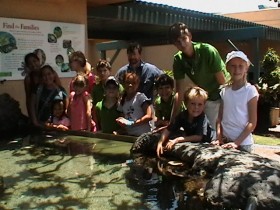 Our time in Hawaii was bitter/sweet.  While at the airport Brian recieved a call – his step mom, Patsy was not doing well – the cancer had spread.  Four days and 2 calls later – she had passed away.  There was no way to go back to OK.  It was hard missing the funeral, but everyone understood we just could not come.  We were so glad we had gone through OK on our way to CA (we had been planning on going the TX route going west and the OK route coming back but nothing opened up in TX – then churches opened in ARK and OK.) We had a good visit with Patsy while we were there.  God knew the way we needed to go.  And He knew when we would be in Hawaii. We have learned to trust in His timing and path.  End of this month we plan on being back in OK too spend time with Brian's dad.
While in Hawaii we got an email asking if we would do the children's program at Camp Nathaniel this July – so we actually have something scheduled 3 months ahead!