Browsing articles in "News"
God has taken us on such an incredible, perfectly timed journey.  When we rented out our house and headed out for a year on the road, we had no idea where the road would lead.  Sometimes God would light our path just a step at a time.  (occasionally He would map it out for a whole month!)
But looking back we can see the path so clear, the itinerary so full.  We had planned on going to TX in Feb, but nothing opened there and instead more and more opened in Florida.  Then doors opened in Ark and OK so that is where we went.  And I am so glad we did.  We had a very sweet visit with Brian's step mom, Patsy, while in OK.  The children sang song after song for her; she even sang along. It is a good memory for everyone.
After Samaritan Ministries put a blurb in their news letter for us, we recieved this email:
Hi Brian and Carla,
I got your name and email from Samaritan Ministries, which my family only joined a few months ago. My husband and I are new believers with a very strong science background. We are super interested in RE-learning what was taught to us in high school/college/grad school. Especially how the Hawaiian Islands were formed, along with lots of other things. 🙂

Have you ever thought of coming to Maui? We own a little B&B (www.haikucanneryinn.com) that we would be happy to put you up in and I know we could come up with a handful of venues to do speaking engagements. Anyway, I look forward to hearing from you.

Aloha,
Aly & Marc Hodges
Two and a half months and about 50 emails later……  we were in Hawaii!!!
The plane ride went fine.  Being a family we were walked through security with only our bags x-rayed (all 15 of them!)  One had to be opened and inspected (our bag of jacket wrapped fossils), but he was very nice about it.
The 2 bedroom cottage was wonderful!  Complete with bathroom and kitchen. We were so glad to discover a Walmart and Costco here – prices weren't too bad.  The day after we arrived we had our first seminar – a packed room of homeschoolers.  Sunday morning we shared back to back kids classes then that night we had a mixed audiance of Christians and seekers, Theistic evolutionists and creationist.  Our host Marc and Alyson Hodges were native Hawaiians and new believers with strong science backgrounds.  They have jumped into the creation studies with both feet.  While we were there, they were are personal tour guides!
We had some wonderful days of waves, snorkeling,
exploring tidepools, and great fellowship.  We traveled the road to Hana and went all the way around the back side too.  We hiked the forests and watched the sunset on top of the crater.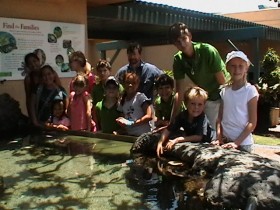 Our time in Hawaii was bitter/sweet.  While at the airport Brian recieved a call – his step mom, Patsy was not doing well – the cancer had spread.  Four days and 2 calls later – she had passed away.  There was no way to go back to OK.  It was hard missing the funeral, but everyone understood we just could not come.  We were so glad we had gone through OK on our way to CA (we had been planning on going the TX route going west and the OK route coming back but nothing opened up in TX – then churches opened in ARK and OK.) We had a good visit with Patsy while we were there.  God knew the way we needed to go.  And He knew when we would be in Hawaii. We have learned to trust in His timing and path.  End of this month we plan on being back in OK too spend time with Brian's dad.
While in Hawaii we got an email asking if we would do the children's program at Camp Nathaniel this July – so we actually have something scheduled 3 months ahead!
While swimming in a lava tube cave,  Jeremiah looked up at me and said," It is so easy to swim now, I do not see how it was so hard before".  Just last May he had to dog-paddle hard to keep his head above water. He could not make it haft way across the pool. But now he has learned to trust the water to hold him up, with just the slightest movement he can stay afloat.  And so it is with our walk of faith.  When we started out last May, I was "dog-paddling hard"  not quite trusting God to hold us up.  I wanted to see that full itinerary…. but now I know God will hold us up, I can truly rest in Him – and it feels so good. God taught me to swim while in Hawaii!!
2011 The Year in Review
During 2009 & 10, we shared our creation ministry full time with several loop trips coming home for a month in between each.  Well, that got expensive keeping up with the home front bills and the road expenses, so we decided to put our home on the market and spend this year on the road.  Instead of selling our home, we are renting it for the year to a family who is planning on buying it in May.  So  we did one final St Patrick party in our back yard, one more Easter sunrise hike at Red Top, painted, packed and emptied our house (with a lot of great help from friends at church), said good bye to our home, friends, and neighbors – then hit the road.  Needless to say, it was a bitter/sweet day.  This summer we hope to relocate somewhere in the country.
Life on the road has been like a rollercoaster ride (including the hour wait in line and a 6 flight climb of stairs.)  We've had lessons in endurance, patience, contentment, longsuffering yet, have also met some wonderful people, seen some awesome scenery, and had some exciting fun(canoeing, hiking, dino dig)  We have seen God provide for our needs, give moments of refreshment, and open  many doors of opportunity to share.  I could tell at least 5 stories for every word or phrase in that last sentence!  As part of school the kids have been journaling our trip, maybe someday we will compile a book.  Until then, James and I have figured out how to update our web site  and next go around we will try to keep this blog updated.
All in all, since May 10th, we covered 25 states, drove 12,700 miles, bought over 1000 gal of gas, shared at 22 churches, 4 schools, and 5 weeks of summer camp, visited an unknown number of museums, historical sites and battlefields.  We've experienced a bit of vehicle trouble this year, ball bearings, differential, camper wheels and converter… but each time it was caught and fixed; we were never left stranded.
Hannah has grown so much this year.  She learned to ride a bike, read, sing a solo, and not be afraid of horses, canoes, or water!  Jonny had a blast at kid's camp – 2 weeks of being in a cabin of little boys.  He gained a new skill while at camp – wood burning.  Jeremiah continues to be our out going one, making friends wherever we go.  He went from barely able to dog paddle to doing back flips into the deep end! Josiah has become a "Lord of the Rings" fan and is working his way through the third book.  He is doing business math this year and keeping track of receipts. He looks the part, carrying all his stuff in a lockable briefcase, which he brought everywhere even to his cabin.  Rebekah has become my main helper. She is learning patience as she listens to Hannah's daily reading.  She continues her artwork, photography and music, but sure misses having weekly lessons.  She so enjoyed being a camp counselor and staff member.  James has been Brian's right hand man, my personal computer specialist, and missed only 3 on his 40 question driver's test!! His favorite pastime is now driving, working on the computer,and playing airsoft with his brothers.  He did great as a camp counselor and is a big help now with Jonny.
I guess that about sums it up!  Except to say, Thank you for your prayers – they are so needed and felt.
Praise the Lord we made it!!! A big thank you to everyone who was able to come out and help!!  We finished right at 4:00!!
Today's request, we did not get a really early start this morning – it will be a long hot ride – we need peace in the van!!! and safety on the road.  And, once we get to Florida, I have a majorly packed camper to downsize and organize.  I am so glad we will be in a guest house for 2 weeks and not having to sleep in the camper!!
Stepping Out in Faith
April  2, 2011
Sometimes we wonder if God really hears;  if we are truly doing what he wants, or just what we think we want;  if valleys of discouragement are going to last forever.  And sometimes God moves in ways that you know it is all Him.  That He is truly guiding and directing.
On March 30th Brian was working on a new  creation power point presentation and came across this verse:
"Thus saith God the LORD, he that created the heavens, and stretched them out ; he that spread forth the earth, and that which cometh out of it;"  Is 42:5
That was the main part he was interested in, but I said 'I wonder what God said, lets look it up again and read the rest." Here it is:
"he that giveth breath unto the people upon it, and spirit to them that walk therein:  I the LORD have called thee in righteousness, and will hold thine hand, and will keep thee, and give thee for a covenant of the people, for a light of the Gentiles;  To open the blind eyes, to bring out the prisoners from the prison, and them that sit in darkness out of the prison house."  Isaiah 42:5-7
(Now I know God was not talking directly to us, that verse was originally directed to someone else, but  it seemed as if He were talking to us.) He is all-powerful, He is in complete control, and He will be with us and through us open the eyes of the blind.  That will be our year's verse.
The every next day, March 31, we had a family come look at our house, that afternoon they made an offer.  They set the closing date for May 9 (After the homeschool convention, May 6-8 and before we leave for Florida, May 11th; absolutely perfect timing). We have a month to get ready to move.  We plan to be on the road for 6 months to a year and then buying a new home.  I needed that verse in order to take this step of faith; it is not easy to give up a house that has been home for over 10 years.  It is not easy to think of living in a camper with 6 children, for me no change is ever easy and I so thank God that the verse came before the offer.
We thank you for the prayers that have been offered on our behalf, and we have a few more for you to bring before God's throne.
1. That inspections and appraisal would go well
2. We have a good dog who needs a "foster home" for 6 months to a year. He has a
house and pen and is an outside dog. We do not want to actually give him away
(that would be really hard on the children)
3.We need a place to store some of our stuff, mainly boxes and boxes of books,
and some furniture, but we are selling most things.
4. wisdom in sorting stuff, keeping only what we really should.
5. strength and peace for all of us. (Brian and the boys are excited, Bekah and
I are having a harder time)
6. safety and health as we travel
May-Florida, June-road to Utah, July- Pioneer Bible Camp, Aug-on the road
wherever God leads
7.peace for everyone as we say goodbyes
Thank you so much for your prayers,